THE WAY OF THE SAMURAI
Richard Storry (r. 1978)
Storry cites prior accounts of Japanese culture beginning with Nitobe's Bushido: The Soul of Japan (1920) to identify changing western perspectives of Japanese culture and the samurai class. The familiar narrative of an evolving samurai integral to centralized authority and modernization is treated with concern for this changing perspective. This large format presentation makes liberal use of prints, illustrations, photographs and artifacts to supports its narrative as shown here. Includes chronology, glossary and bibliography.
128 pgs., 8¾ x 11½" hardcover $30.00
HISTORICAL & GEOGRAPHIC DICTIONARY OF JAPAN
E. Papinot (Tuttle r.1976)
A very useful text that presents the obscure and not-so-obscure references that are discovered in the course of cultural study. With its dictionary-type format, Papinot has created a concise encyclopedia geared toward historical and geographic themes. One has only to look up a name, place, or article to appreciate its significance. Remember, historical study is culturally based and without this key frame-of-reference meaning is lost. The translated series - Nihonto Koza calls upon its readers to make frequent use of this essential text.
842 pages + foldout maps, soft cover $55
JAPANESE NAMES:
A COMPREHENSIVE INDEX OF CHARACTERS AND READINGS
P. G. O'Neill (r.1972)
This book came to our attention by recommendation of John Slough, author of Modern Japanese Swordsmiths, who cites O'Neill's text as the most useful text for the difficult and often confusing task of reading signatures. This well organized reference begins with a brief guide for use and is followed by three sections allowing reference by character (kanji), reading (Romanji), or by radical. An effective key also confirms if names are given or surname (by gender), and/or of historical or artistic importance.
359 pages, 47/8 x 71/8" soft cover $45
SHOKAN: HIROHITO'S SAMURAI
R.Fuller (1992)
Fuller identifies more than 1000 General Officers and Flag Officers of the Japanese military hierarchy during WWII. Includes biographical detail and many accounts of formal surrender ceremonies. This is an essential tool for researching the provenance of officers' swords. Indexed.
319 pages, 6¼ x 9½" hardcover $69
THE SAMURAI, A Military History
S.R.Turnbull (1977)
An outstanding history of the samurai class, this book traces the origins through to its end. Turnbull does well to connect the legends and myths to historical account while maintaining a clear chronology throughout. Well supported by prints, diagrams, photographs and charts, it is one of our favorite books on the subject of the Japanese military class. Includes: appendix, bibliography, and index.
304 pgs., 7½ x 9¾" hardcover $45.00
THE BOOK OF THE SAMURAI: The Warrior Class of Japan
S.R. Turnbull (r. 1982)
A survey of the samurai class from its origins to its final reconciliation with the modern age. This large format presentation makes liberal use of prints, illustrations, photographs and artifacts to supports its narrative as shown here. Includes glossary and bibliography.
192 pgs., 9¼ x 12" hardcover $30.00
MON: The Japanese Family Crest
Kei Keneda Chappelear & W.M.Hawley
A listing of 1,475 Mon including dual index, both by family surname and visual subject.
120 pages, 8½ x 11" soft cover $35.00
LEGEND IN JAPANESE ART
Henry L. Joly (r.1967)
Originally published in 1908, this well researched volume describes "the historical episodes, legendary characters, folk-lore, myths, and religious symbolism illustrated in the arts of old Japan." Both an encyclopedia and a "detailed iconography", this book belongs on the shelf of every serious collector and student of things Japanese. This is the classic reference used to identify pictorial elements and themes in Japanese art.
623 pages, 8¾ x 11½" hardcover $335.00

The significance of identifying subtle, culturally based, cues in art cannot be overstated. Consider the importance for understanding pictorial themes in recognizing the works of specific fittings schools. Clive Sinclaire's article Ten Tsuba well illustrates the importance of recognizing pictorial themes - in particular, see the description of tsuba number seven.
THE NEW NELSON
JAPANESE-ENGLISH CHARACTER DICTIONARY
A complete new revision by J.H. Haig
This volume sets new standards for ease of use and reliability in the field of Japanese language-learning reference tools. Includes a new radical index that simplifies the chore of hunting for a kanji by its often difficult-to-distinguish primary radical, and also has an expanded cross-referencing system that includes the character's index number in Morohashi's Dai Kanwa Jiten, its JIS code number, and its sequential position in the total character listing.
1,600 pages, hardcover $69.95
NATIONAL TREASURE
Peter Bleed
Though a work of fiction, this novel shows the author's expertise in the area of Japanese archaeology and swords in particular within a highly absorbing story of two swords and six-hundred-years of history. Anyone who has ever wondered 'if these could talk' will find Bleed's clever story an excellent read.
311 pages, 5½ x 8½" soft cover $19.95
NIHONGI:
CHRONICLES OF JAPAN FROM THE EARLIEST TIMES TO 697 A.C.E.
G.W.Aston (trans.)
This book often called the Nihonshoki, is one of the most important classics of Japanese literature. The text remains as fresh today as when it was written in the 8th century, and provides a vivid picture of a nation in formation. This edition combines two volumes in one, 26 b&w illustration; index.
852 pages, 4¾ x 7" soft cover $19.95
A HUNDRED VERSES FROM OLD JAPAN
W.N. Porter, translator
An early translation of Hyaku-nin-isshu, one of Japan's most famous anthologies of poetry. Contains the original woodcut illustrations, and is accompanied by informative background notes.
224 pages, 4¼ x 7" soft cover $12.95
THE BOOK OF TEA
Okakura Kakuzo, (E. Grille, trans.)
This famed Zen volume is neither a simple study of "tea" nor an esoteric study of Japan's tea cult. Rather, it is an attempt to make understandable the essence of Japanese culture. A striking assessment that contrasts cultural identifications.
154 pages, 5 x 7¾" hardcover, boxed $18.95
BUSHIDO: THE SOUL OF JAPAN
Nitobe Inazo
Describes Bushido as the Japanese feudal equivalent to chivalry, and as the standard for the nation. Written in 1905, it is a product of Meiji national ideology, and offers a unique perspective for the scholar.
204 pages, 4¼ x 7" soft cover $12.95
THE FORTY-SEVEN RONIN STORY
J. Allyn
This is the historical account of the famous mass seppuku of the 47 ronin, or masterless samurai, that occurred shortly after the turn of the 18th century.
240 pages, 4¼ x 7" soft cover $12.95
CODE OF THE SAMURAI
TAIRA Shigesuke, (T.Cleary, trans.)
A modern translation of Bushido Shoshinshu, the 400-year-old explication of the rules and expectations of Bushido, the way of the warrior. Cleary's translation offers a clear conversational narrative of this important text.
98 pgs, 5¼ x 7¾" hardcover $14.95
TAIKO, A NOVEL
Eiji Yoshikawa, (W.S.Wilson, trans.)
Yoshikawa's epic novel centers on the ascendance of Toyotomi Hideyoshi as the unifier of Japan. This fictional account charts the true chaos and cunning of rival daimyo positioning for control at the close of the sixteenth century. Province by province conquest!
926 pgs, 7¼ x 9¼" hardcover $38.00
EHON TOYOTOMI KUNKOKI
Pictorial Biography of Toyotomi Hideyoshi, The Unifier of Japan
Ichiyusai Kuniyoshi
Includes reproductions of over 600 accurately detailed woodblock prints depicting the life of Toyotomi Hideyoshi by the artist, Ichiyusai Kuniyoshi. With a color fold-out triptych.
620 pages, hardcover $150.00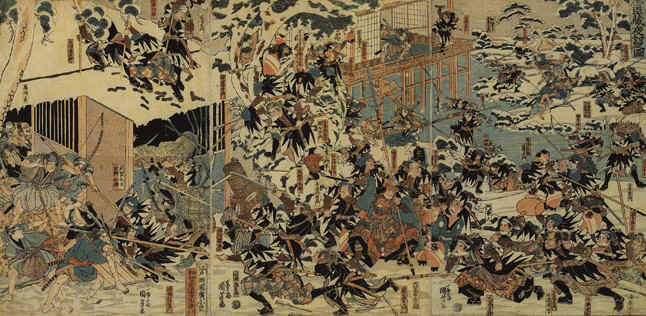 BUSHIDO OF THE FORTY-SEVEN RONIN
20¼ x 10" triptych, 100lb paper $50.00

FORTUNE TELLING BY JAPANESE SWORDS
O'Hamaguchi, C.Talbot
A translation from Japanese of a manuscript that detailed various characteristics apparent in swords, including kizu and suriage, as a means to tell the fortune of the sword's owner. An interesting text with many illustrations.
43 pages, 5½ x 8½" soft cover $7.95

JAPANESE CREST DESIGNS
W.M.Hawley
An abridged listing of 220 Mon with family surnames representative of the principle motifs of Japanese heraldry.
34 pages, 5½ x 8½" soft cover $6.00

PERRY'S BAY
B.Taylor
A first-hand account of the American expeditions led by Commodore Perry's that resulted in the Treaty of Kanagawa - the "opening of Japan". This primary source record of events includes illustrations from the famous mission and offers a unique glimpse at Edo period Japan as seen by westerners.
49 pages, 5½ x 8½" soft cover $6.95

BUDDHIST SYMBOLS ON JAPANESE SWORD BLADES
W.M. Hawley
An explanation of various Bonji characters appearing as horimono on blades, and illustrations of the various Buddhas represented.
14 pages, 5½ x 8½" soft cover $4.95

SAMURAI PAINTERS
Addiss/Hurst (1983)
A unique text presenting artistic creations of the samurai. The works of Musashi, Ieyasu, and many others offer the viewer a direct glimpse into the samurai mind and spirit. This beautiful work includes 25 large format, full color plates plus additional supporting text and pictures.
48 pages, 10½ x 14½" hardcover
HEIHO OKUGISHO:
The Secret of High Strategy
Yamamoto Kansuke (Toshihiro Obata, trans.)
Reproduction of the 1804 illustrated, woodblock edition of writings attributed to Takeda Shingen's strategist Yamamoto Kansuke with English and German-language translation. The original text predates Musashi's writings.
400 pages, 8½ x 11" comb bound $85.00
A BOOK OF FIVE RINGS
Miyamoto Musashi (V. Harris, trans.)
The classic guide to strategy written over three centuries ago by master swordsman Miyamoto Musashi. The text includes footnotes to assist the reader, while the actual writings have been maintain with great attention not to color their meaning. An introduction by the translator gives an overview of the period and biography.
96 pages, 7¼ x 8½" hardcover
JAPANESE NAMES AND HOW TO READ THEM
A Manual for Art-Collectors and Students
A. Koop, H. Inada (r.1960)
First published in 1923, this is the definitive 'guide to the reading and interpretation of Japanese proper names, dates, and formal expression.' This is the essential tool so often referred to by serious collectors and advanced students.
561 pages, 7½ x 10" hardcover
JAPANESE ART SIGNATURES
J. Self and N. Hirose (r.1987)
Many collectors owe their ability to read Japanese signatures to this text. While lacking the depth of O'Neill's or Koop & Inanda's works, this book is geared specifically toward reading art signatures, locations, and dates as appearing on Japanese art. Divided into nine sections, it specifically addresses reading: key characters, provincial and geographic names, and variant characters with extensive charts. Of special note is its categorized listing of artists' signatures. In all, this text serves as an introduction to the process of reading inscriptions, emphasizing 'how' with effective diagrams and explanations - think of it as a text book.
399 pages, 7 x 10" soft cover
SAMURAI: An Illustrated History
Mitsuo KURE
A very accessible survey of the samurai class well supported with nearly 800 photographs, illustrations, and diagrams. It is something of a cross between the works of Turnbull and Bottomley with the unique addition of photographs from modern reenactments demonstrating many aspects of the samurai class not seen elsewhere such as: a 10 photo series showing the reloading sequence for the Japanese matchlock, and various methods employed for tying kabuto and mempo. A title to be appreciated by collector and historian alike.
192 pages, 9¼ x 12¼" hardcover
A DICTIONARY OF MILITARY TERMS
English - Japanese and Japanese - English
Lt.Col. H.T.Creswell, et al (1942)
A publication of the University of Chicago Press, this unique, scholarly reference fills a needed gap when translating military materials. Unlike conventional Japanese-language dictionaries, this was prepared specifically with contextual references to military use. An effective tool to draw from your bookshelf for research, it affords the reader the important perspective and insight to both period and application.
685 pages, 7¼ x 6¼" hardcover